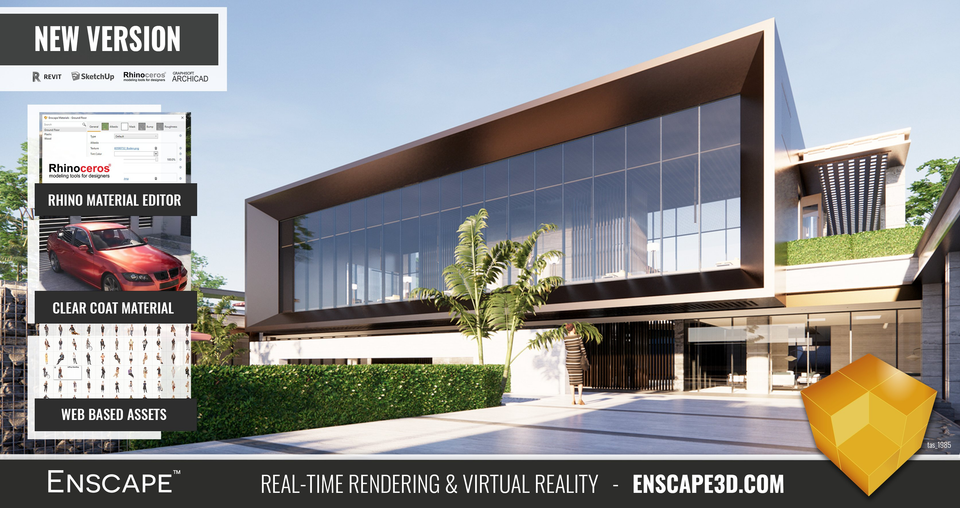 Version 2.5 is now live: in this version you'll find new features and overall improvements to optimize your Enscape experience. Check out the Video below for a full overview of the updates and developments included in this latest release.Let Enscape 2.5 take your design to the next level: streamline your workflow and impress your clients with one click.
---

Asset Library Expansion
The Asset Library is now web-based, to keep your download time low. We have also greatly expanded our asset categories and added new, detailed content. Find what you are looking for even faster with our improved search tags!
Material Editor for Rhino3D
Now it's easier than ever to fine-tune your materials in Rhino. The new Material Editor for Rhino lets you create materials specifically for your Enscape model and gives you a handy overview of all the materials applied.
New Material: Clear Coat
Check out this stunning new material option to optimize the look of your cars and enamel items. Use it to imitate automotive paint, or the high gloss of varnished wood.
Video Editor Improvements

Smoother path and rotation, plus improved usability: The Enscape Video Editor has been refined to make your video creation even faster.
---
Additional Features
Improved lighting performance and artificial light shadows
Shadow sharpness setting
Enhanced fog settings
Increased grass rendering distance and performance
New horizon presets
SketchUp 2019 support
Improved outlines
Textures in off-screen reflections
Increased max texture resolution